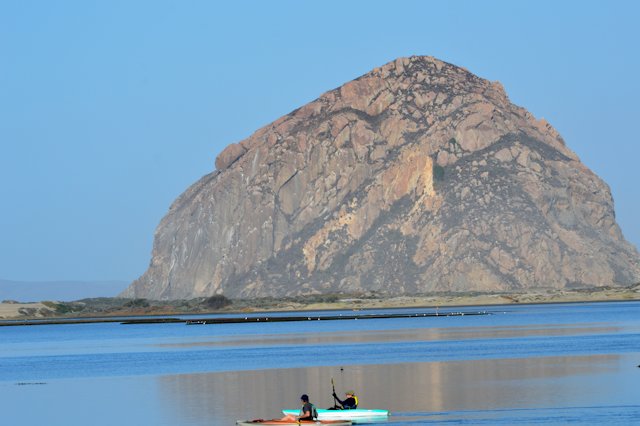 Not travelling – but we did take a quick getaway to Morro Bay for a few days.
We've been to Morro Bay and San Luis Obispo before but it's been several years. So, when we had the chance to get away for a few days we thought that would be a great destination.
We had a great time – the weather was perfect! We were only there 2 days but we saw the big attraction – Morro Rock – as well as taking walks through nearby Elfin Forest and the Marina and Morro Bay Estuary.
Elfin Forest is made up of scrub oaks and pygmy oaks which typically get to only 6-7 feet tall. There's a boardwalk going through the forest to protect the natural habitat. We found one grove of larger trees but much of the area we could see over the top of the trees.
We had several great views of the estuary from Elfin Forest, and views of Morro Rock from part of it. As we were nearing the end of the walk we chatted with a very nice man and his dog who walked there a lot – he told us there was a herd (?) of feral pigs living in the forest and asked if we had seen or hear them. Luckily we had not or Laddy would have wanted to go chase them!
We also spent the afternoon on the beach right up against Morro Rock where we watched surfers and birds and waited for sunset so Jeff could get a picture of the sun setting behind Morro Rock. He was able to get it right in a cleft of the rock that matched a pictures he took last time we were here!
The next day we walked a hiking trail around the marina and bordering the other side of the estuary. It was a very pleasant walk until we saw that we were approaching a large mostly dead pine tree with large vultures on every branch! They watched us approach and only a few took off. Some of them spread their wings as we passed by which was very interesting. They are BIG birds!
We also enjoyed checking out the local restaurants for our meals. All in all Morro Bay is a great little coastal community, off the main highway through the area and still has a lot of small town vibe to it.